How would your employees respond if you took away their desks, their filing cabinets—even their own private offices? Instead, you'd tell all employees they could plop down anywhere each day with their laptops and phones and get to work.
Conversion to such an "untethered" office isn't a concept sweeping the country, but it is being tested in some locations. At the Los Angeles headquarter of international real estate brokerage CBRE Group, even the CEO has no home base within the office, according to a Los Angeles Times feature.
Instead of separate offices or cubicles, employees show up each day and have a choice of working withi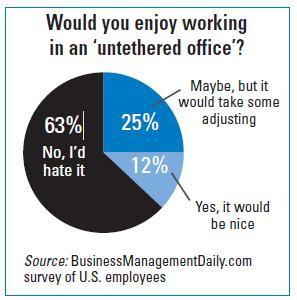 n one of 10 different "neighborhoods"— spaces where others are working on similar tasks—on a couch or even in the heart of the office near the front door.
Gone are desktop computers. Workstations have telephones, keyboards and monitors that employees plug into. They can sit, stand or even walk on a treadmill while they work. The office still has conference rooms for meetings and small booths for making those private calls. (See photos.)
When employees arrive each day, they collect their telephone headsets, laptops and important files. When they leave, they can store their laptops in a locker or take them home for the night.
The goal: reduce rent costs by using office space more efficiently, attract tech-savvy workers who are weaned on wireless and create an atmosphere of better collaboration. CBRE said the switch increased its technology costs. But by reducing the size of its downtown office, the company should trim 30% off its rent and capital costs.
Many companies are using the "hoteling" concept, in which workers who travel frequently "check in" to a desk while in the office. But examples of white-collar offices without any assigned desks are rare enough in the United States that CBRE had to look to Europe for ideas.
As the survey at right shows, employees may have an instant negative reaction to such a radical change. But, as one CBRE employee told the Los Angeles Times, "I thought the place would feel impersonal. It's almost more personal, in a different way. It really does have a sense of community."